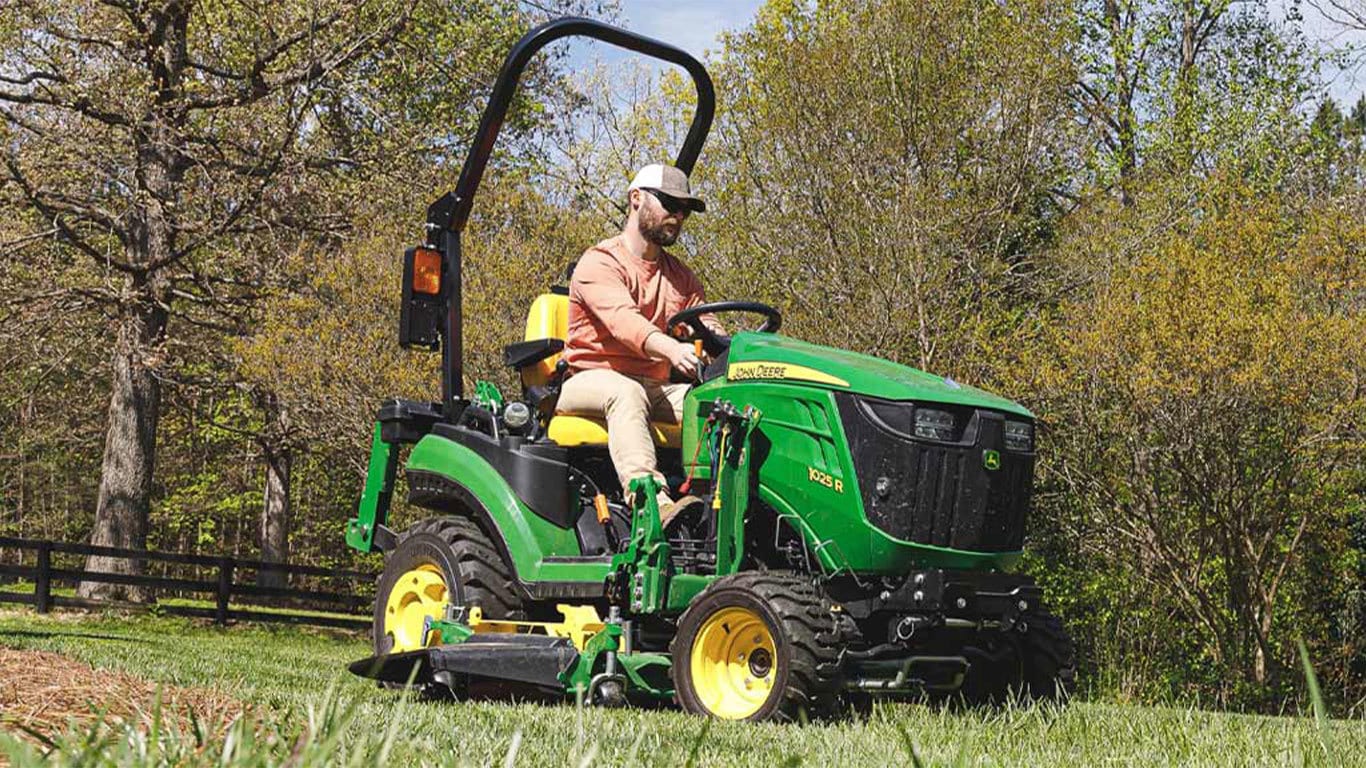 1 Series John Deere Tractors For Sale
1 Series John Deere tractors at West Central Equipment provide Pennsylvania with the best compact tractors. With two models to choose from, pick the one that is personalized to your needs best. With a wide range of available attachments for the 1 Series tractors, complete any job from digging to plowing. Looking to finance a compact tractor? Our team at West Central Equipment is here to help you get the equipment you need quickly. Stop into any of our five locations to learn more.
John Deere Compact Tractor Models Near You
Get John Deere compact tractor models near you at West Central Equipment. With two models in the 1 Series, pick between the 1023E and 1025R. The 1023E is the cheaper tractor and offers a smaller frame and an open station. The 1025R provides more horsepower and stability, with improved LED headlights for night work. Test out both models for yourself at West Central Equipment.
John Deere 1025R Specs
The John Deere 1025R is the staple compact tractor from John Deere. With 23.9HP, push through all your minor working conditions with ease. The operator seat has suspension seating and dual armrests for maximum comfort while riding for long hours. Seating options include an open station or a cab. With AutoConnect, Quick-Tatch, iMatch, and more quick-connect features, you can hook up attachments quickly and without the help of other people. Check out the 1025R compact tractor at any of our five locations in Pennsylvania.
1 Series Tractor Attachments
The 1 Series tractor from John Deere has a broad set of possible attachments. Some of these include:
Front End Loader

Backhoe

Rotary Cutter

Mower Deck

Snow Blower

Box Blade

Post Hole Digger
With all these and more attachments available for compact tractors, talk with our team at West Central Equipment to find the right attachments for you.
Financing Compact Tractors at West Central Equipment
Get financing on compact tractors in Pennsylvania at West Central Equipment. Our team is partnered with John Deere to provide excellent rates and flexible payment plan options. Working with West Central Equipment, you have a local staff whenever you have questions about interest rates, payment plans, etc. Click here to begin the application process online, or call us, and we will help you get started today.